Staff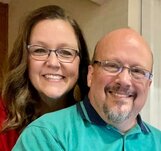 Pastor: Craig Vance
Craig and Stacy have been in ministry over 25 years and have ministered to children, youth and adults. Using expository preaching, Craig preaches the whole counsel of scripture one book at a time. He has a heart for evangelism and making disciples and desires that all who receive salvation in Christ grow in spiritual maturity and wisdom and become disciple makers themselves. Stacy has a heart for women's ministry and has served in cooperation with the SBTC Women's Ministry team. It is also her desire to disciple women, helping them grow in their faith as they follow Jesus.
Craig has his Bachelor degree in Biblical Studies/Pastoral Ministries and Master degree in Pastoral Ministries from The Criswell College in Dallas, Texas. He is currently studying for his DEdMin in Discipleship from Southwestern Baptist Theological Seminary. Stacy has her Bachelor degree in Education/Communication Disorders and a Master degree in Education. She has been in the education field for 20 years teaching the hearing impaired, visually impaired, and also 1st-3rd grade classroom children. She is currently a Speech Language Pathologist Assistant for Lindale ISD. She is finishing up her Masters in Theology from Southwestern Theological Seminary and will graduate in May 2023.
Craig and Stacy have three adult children: Justin and his wife, Shyanne and daughter, Emersyn; Ashley and her husband, Nolan and son, Stryder; and Hannah Kate who works in Tyler and is engaged to be married.

Administrative Assistant: Lowrey Davis
Lowrey and Deborah have been actively involved in ministry for more than forty years. Lowrey has served primarily as an Administrative Pastor for the past 30 years and has a heart for missions having trained and led teams in over forty trips in seven countries. He has a heart for education and has written for various Lifeway publications. Deborah loves children and served as Preschool Coordinator for many years and retired from Cy Fair Schools where she worked with children with autism as a Behavior Specialist.
Lowrey has a Bachelor of General Studies from Louisiana College and a Master of Religious Education from Southwestern Baptist Theological Seminary. Deborah attended East Texas Baptist University where she was a performance major and featured soloist. Having come out of retirement, Lowrey and Deborah are excited to serve at FBC Mixon.
Lowrey and Deborah have three adult children: Jonathan and his wife, Paige; Jennifer and husband, Roger; and Jo-Catherine and husband Chip along with 5 beautiful grandchildren.